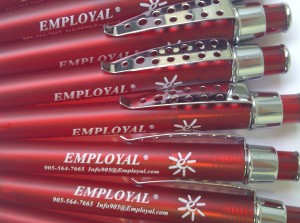 ***  e m – p l o y – a l [em-plo-yal] adj.

devoted to; showing one's loyalty .
English origin of the word consists of employ and loyal.
Both derive from the French language emploier "to apply",
and loial "devoted" variant of leial from Latin legalis. The
underlying idea is of faithfully carrying out obligations.*
::: Our Vision
At Employal, we strive to become the most respected and trusted resource for industrial and administrative employment staffing solutions for our clients.
::: Our Values
Each day at Employal, we live and work by these values: Aptitude, Commitment, and Integrity.
:::   Our Mission
To provide our clients with superior candidates, administered by an industrious, knowledgeble and experienced customer service team.
:::   Our Passion
We strictly adhere to fair and equitable employment practices when dealing with employees and clients. Our recruiters employ a great variety of performance assessment tools to ensure the right fit thus earning respect and trust as a professional organization.
We are dedicated to providing our clients with exceptional service, allowing them to focus on their core competencies. By relieving our clients from the burdens of recruitment costs, employee absences, high turnover, and payroll remittances, both parties can specialize in what they are best suited for in a mutually beneficial association.
---
:::    Employal welcomes your comments and inquiries.
cforms contact form by delicious:days
* You may not be able to find  employal in the dictionary …..yet.